About the Edmonton Chargers
---
How to Contact Us
Edmonton Chargers Clubhouse
6309 Wagner Road NW
Edmonton, Alberta
T6E 4N4
We are located across the front doors of W.P. Wagner High School.
View a map here.
The clubhouse is open evenings from 5:30 pm to 9:00 pm during practices. Most weeks June through October that's Tuesday, Wednesday & Thursday. If you can't make it you can reach us by email or leave a voice message.

Phone: (780) 462-5738
Email: Manager@EdmontonChargers.com
Club History
The Edmonton Chargers Football club is a place for boys and girls ages 8 and up to come and play full-contact competitive football. They will learn the discipline, team work and good sportsmanship which the Chargers are known for wherever they go, along with many other life lessons.
The Chargers is run completely by volunteers and has no paid staff, coaches or administrators. With the help of parents and volunteers the Chargers organization is able to provide the best and safest equipment to the players as well as a full clubhouse for players to come and enjoy.
The Chargers is one of the most afforable teams that you can put your child on. One low price includes a full season, high quality equpiment, insurance, team and individual photos as well as transportation to and from games. For more information see our individual team pages.
Club History.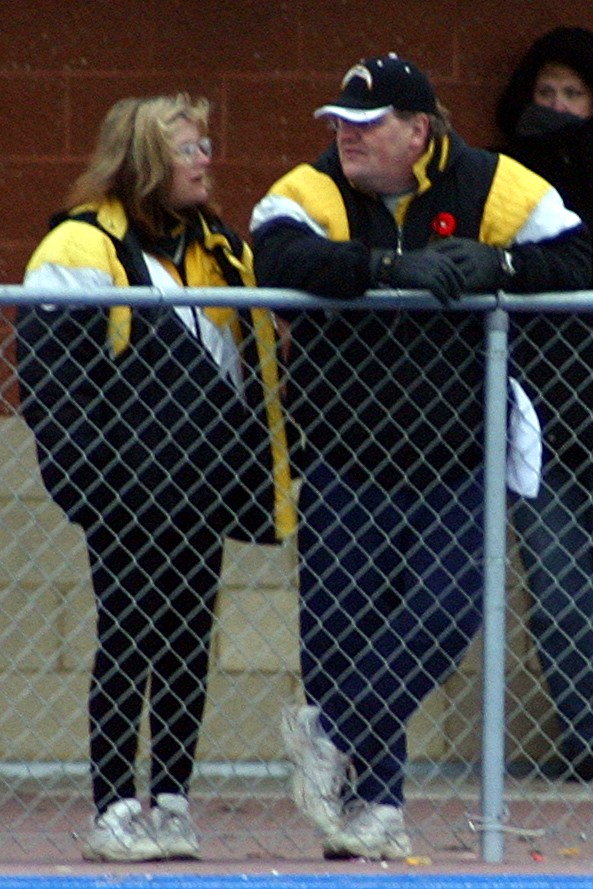 The Chargers Football Club is the oldest minor football program in the City of Edmonton.
The Chargers Bantam Football team was created in 1972 as the Donnan Knights with Larry Kaban as head coach. The Club played in the Huskies Athletic Association League along with 26 other bantam teams. Under his direction the club grew and was eventually taken over by one of his former players, Dale Manko, who along with many other great volunteers brought the team to its current standing as one of the City's finest football clubs.
In 1974, the team underwent a name change to the Oil Patch Oilers and the team colours became gold and black. The team then became the Union Tractor Crawlers. Finally, in 1985, the team made the most recent transformation to the Chargers Football Club. The Chargers currently have 4 teams; one each at Atom, Peewee, Bantam and Midget, all of which participate in the Capital District Minor Football Association.
The Club has operated out of a number of locations; the back of a pick-up truck, a converted rink shack, tennis court change rooms and in 2000 we moved to 6025 - 86 Street across from the fields at W.P. Wagner High School.
The majority of assistant coaches over the years have been former players who came back to share their experiences and knowledge.
In addition to the Midget, Bantam, Peewee and Atom teams winning many Capital District Minor Football Association Championships at Tier I and Tier II, we have also won several Football Alberta Provincial Championships. We are very proud of the fact that the Bantam team has been recognized by the Edmonton Football Official's Association as the most sportsmanlike team for 14 out of 20 years while the Peewee team has received this award 5 out of 10 years. We have been major supporters of the Alberta Summer Games and the Football Alberta Bantam Bowl since their inception.
The club has a proud heritage and strives each year to maintain high quality coaching and to continually field teams that stand out as good sportsmen and athletes. It is a goal of this organization to give the players an experience they will remember and will teach them life skills through football.
In Memoriam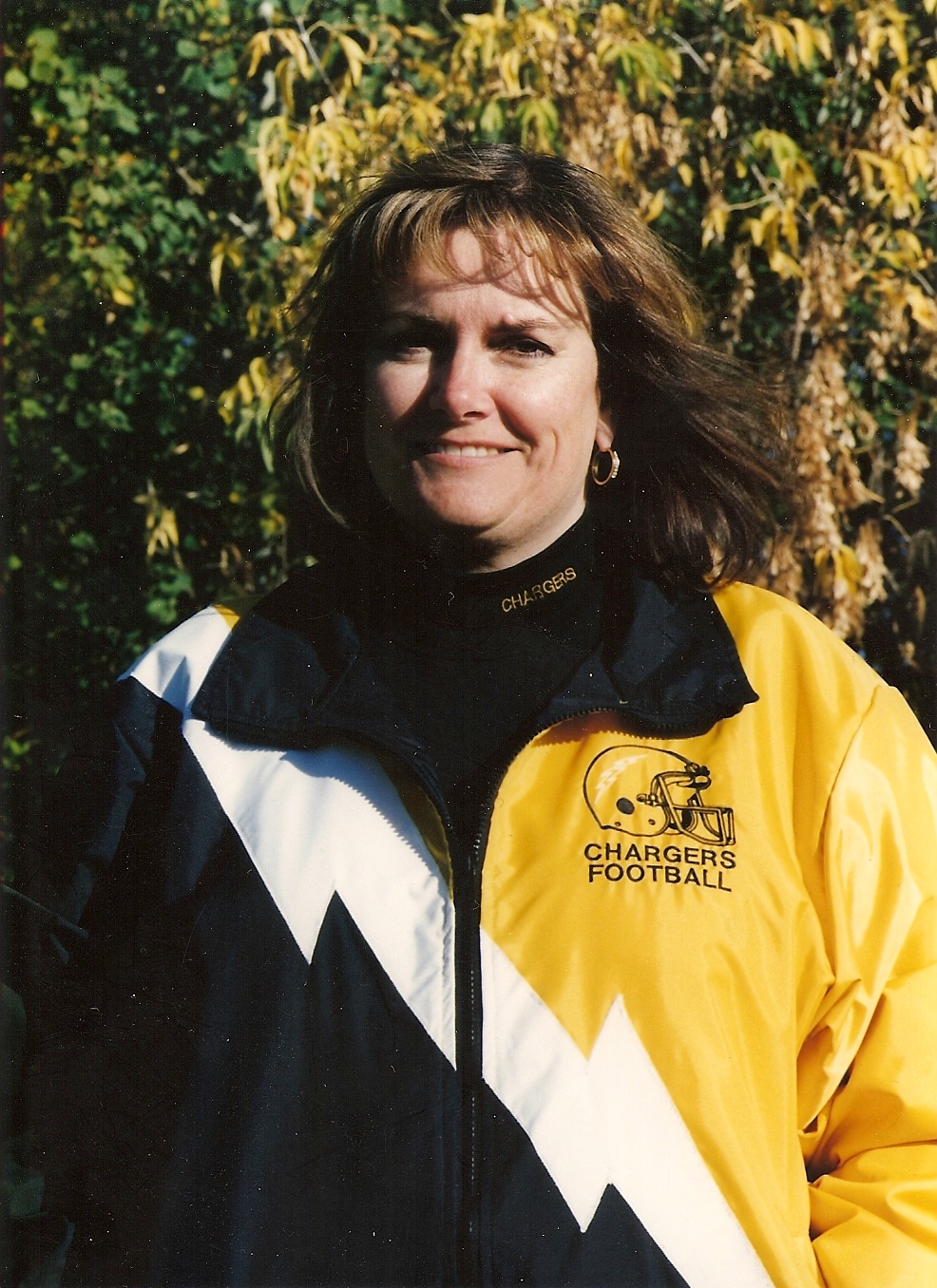 Susan Morgan
1954 - 2016
Watch a video tribute to Susan
In May of 2017 Susan was recognized by Football Alberta who presented her with their Life Membership / Hall of Fame Award
Football Alberta's tribute is posted below.
Life Membership / Hall of Fame Award
Susan Morgan—Edmonton Chargers
(presented posthumously)
In a volunteer role stretching close to 30 years, Susan Morgan's accomplishments are truly too numerous to mention. Started with Edmonton Chargers in 1989 as a General Manager, Susan not only stabilized their program but helped other teams stay afloat in a dark time for minor football. Eventually volunteering with the CDMFA and holding several positions, Susan was the main driving force behind its expansion from 7 bantam teams to over 60 teams and five different levels of play. As a Football Alberta DR, she was instrumental in the start-up of Minor Provincials, Bantam Bowl, Team Alberta U16 and footballs involvement in the Alberta Summer Games. Susan passed away in June of 2016 and will be dearly missed by all involved in the Minor Football world both locally and Provincially and is one of the most deserving additions to the Life Membership/ Hall of Fame Award we've ever had.

Invitation

We have pictures of the Edmonton Chargers teams going back to 1972 hanging on the walls of our clubhouse. If you played for the Chargers, or know someone who did, consider this an invitation to come to the clubhouse and take a walk down memory lane by trying to pick them out of the crowd.
We're missing pictures from 1974 & 1980. If you have a copy that you're willing to donate to the club or let us reproduce you would earn our sincere gratitude.

1995 Las Vegas Team
Individual Achievements
The Edmonton Public and Edmonton Catholic School Boards recognize the most valuable player at the high school level with the Grant Yuzyk Award for Junior Players and the Haliburton Award for Senior Players.
The following Charger Players have been successful winners of these awards
1998 Grant Yuzyk Award
Josh DeGraaf
St. Joseph High School
1987 Haliburton Award
Robin Mead
McNally High School
1988 Haliburton Award
Robin Mead
McNally High School
1989 Haliburton Award
Darin Kershaw
McNally High School
1991 Haliburton Award
Darcy Park
McNally High School
1997 Haliburton Award
Corey King
Austin O'Brien
1998 Haliburton Award
Sean Nelson
McNally High School
2011 Haliburton Award
Leo Mantuila
Austin O'Brien
Football Alberta has a number of awards that are presented on an annual basis to individuals nominated by their peers in the Alberta Football community. Theses awards are based on commitment and dedication to the game of football. We are very proud that a number of our staff have received the following awards:
Football Alberta Life Membership Award
2000
Bill Wong
2002
Ken Dollmont
Minor Football Coach of the Year
1993
Dale Manko
1996
Dale Manko
2000
Chetan Gosavi
Bantam Football Coach of the Year
2002
Dale Manko
Atom / Peewee Football Coach of the Year
2000
Chetan Gosavi
2001
James Devine
2007
Mel Parcels
2013
James Devine
Gary Hobson Memorial Award
1994
Susan Morgan
1996
Bill Wong
2007
Sophie Dowie
The Capital District Minor Football Association also recognizes outstanding contributions to minor football on an annual basis to individuals nominated by their peers in the Capital District Football community. We are very proud that our staff have received the following awards:
Bantam Football Coach of the Year
2001
Dale Manko & Gerald Foster
2002
Gerald Foster
2008
James Devine
Peewee Football Coach of the Year
1999
Chetan Gosavi
2000
Gerald Foster
2004
James Devine
Atom Football Coach of the Year
2013
Mel Parcels
Since 1990, Football Alberta annually selects 40 players from Northern Alberta and 40 players from Southern Alberta for two All Star High School Football Teams. These two teams play one annual game called the North South Game on the May long weekend. Following this game the top 40 players from both teams are then selected for Team Alberta, the provincial All Star team that represents Alberta in the Football Canada Cup in July.
The following high school players who once played football with the Edmonton Chargers have been selected through the years:
Southern All Star Team
1996
Chad Smith - Lester B. Pearson High School
2001
Corey Hathaway - Lethbridge Collegiate Institute

Northern All Star Team
1991
Darcy Park - McNally Compostie High School
1995
David Francis - Harry Ainley Composite High School
Barry Taitinger - Harry Ainley Composite High School
1997
Dallas Livingston - McNally Compostie High School
Jared Olson - McNally Compostie High School
1998
Corey King - Austin O'Brien High School
Andreas Ritzer - McNally Composite High School
Matthew Stewart - W.P. Wagner High School
1999
Allan McDougall - Austin O'Brien High School
Corey Savoy - Harry Ainlay Composite High School
2000
Ryan Ford - Ross Sheppard Composite High School
Anthony Oliver - Harry Ainlay Composite High School
Scott Ryland - Strathcona Composite High School
2001
Brian Debenham - McNally Composite High School
Jeff Proudfoot - Strathcona Composite High School
Christopher Vollmershausen - Strathcona Composite High School
2002
Catlin Rohatinsky - Strathcona Composite High School
J.R. LaRose - Strathcona Composite High School
2003
Al Lalany - Harry Ainlay Composite High School
Ben Grant - Strathcona Composite High School
Liam Boyd - McNally Composite High School
2004
Grant Belous - Austin O'Brien High School
Mike Chessa - Strathcona Composite High School
Matthew Dowie - Austin O'Brien High School
2005
Gordon Hinse - Austin O'Brien High School
2006
Daniel Bedeau - McNally Composite High School
Mike Craig - Strathcona Composite High School
Joshua Gillespie - J. Percy Page Composite High School
Raymond Hurrell - J. Percy Page Composite High School
Micheal McIntyre - Austin O'Brien High School
Matt Pearcy - W.P. Wagner High School

TEAM ALBERTA
1995
David Francis - Harry Ainley Composite High School
Barry Taitinger - Harry Ainley Composite High School
1998
Corey King - Austin O'Brien High School
1999
Allan McDougall - Austin O'Brien High School
2000
Ryan Ford - Ross Sheppard Composite High School
2001
Jeff Proudfoot - Strathcona Composite High School
Christopher Vollmershausen - Strathcona Composite High School
2002
J.R. LaRose - Strathcona Composite High School
2005
Gordon Hinse - Austin O'Brien High School
Other notable achievements by Edmonton Chargers coaches, staff & players over the many years the the Club has been in existence include:
Edmonton and District Bantam football Association
1991 Coach of the Year
Dale Manko
Captital District Bantam Football League
1994 Coach of the Year
Dale Manko
1995 Coach of the Year
Dale Manko
Football Alberta 2014 Senior Bowl
Most Outstanding Player
Daniel Loggale